The Social Life Of the Record
The Social Life of the Record is an occasional collection of texts by musicians, fans, critics, collectors, dealers, label owners, etc. reflecting on recording, releasing, listening to, filing, flipping and DJing records today.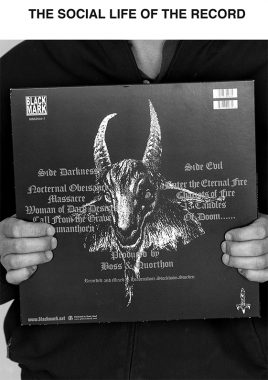 'THE RIFFS AND THE FOREST', Staffan Boije Af GennКs, 2016
5 €
Listening to Bathory's album Under the Sign of the Black Mark, this third edition of The Social Life of a Record is an investigation into the origins of black metal and its impact. In conversation with the guitarist Jon Albjerg Ravnholt, writer and critic Staffan Boije af GennКs discuss the outcome of this album and the birth of the black metal genre. The text is full of references and indications opening up an understanding of the black metal genre and its origins even for the uninitiated.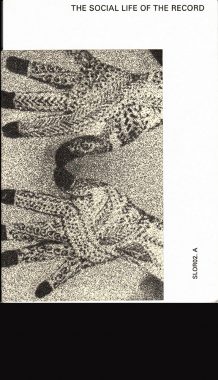 'METAL IDEAS', Felicia von Zweigbergk, Pieter Kock, Janine Armin and Ärkan Nordin, 2014
Special Edition with tape: SOLD OUT
5 €
'Metal Ideas' gathers texts by Felicia von Zweigbergk, Pieter Kock aka DJ Peacock, Janine Armin and Ärkan Nordin, dealing with the influence of listening experiences on moods and behaviours, the death of morality, atonality in horror movies, amongst other things. Artist and musician Felicia von Zweigbergk, chairman of Lost Property art space and Butcher's Tears microbrewery, both located in Amsterdam, investigates muzak as a concept of style; DJ Peacock, founder and searcher of the O Tannenbaum bar in Berlin, remembers the birth of acid music with concision; Amsterdam-based writer Janine Armin brings Rameau's nephew to the table; and Swedish beer brewer and musicologist Ärkan Nordin discusses the merits of uncomfortable music.
This issue of The Social Life of the Record series comes in a special edition with a cassette tape supplement by Felicia von Zweigbergk. The tape sleeve is typeset by Will Holder; the sixteen tracks are for Dawn Crosby and Shulamith Firestone.
Edited by Felicia von Zweigbergk

'EVERYBODY KNOWS THIS IS NOWHERE', Paul Elliman, Tom Lax and Jon Bywater, 2013
SOLD OUT
Addressing questions parallel to those asked by Paraguay Press's established The Social Life of the Book, 'Everybody Knows This Is Nowhere' plays off its format and inaugurates the new series The Social Life of the Record. It is published as a component of the exhibition of the same name held at castillo/corrales December 2012 – January 2013, and extends the project's triangulation of the identity of New Zealand art and music. London-based artist Paul Elliman evokes relationships between sound and geography; Philadelphia label owner Tom Lax chronicles his involvement with New Zealand music as a fan from afar; New Zealand critic Jon Bywater reflects on vinyl records as a means to 'physical thinking'; and French collectors Jedrzej Zagorski, François-Xavier Hubert, Sandra Reignoux, Jean-Louis Cayron and Fred Paquet contribute photographs of some of their New Zealand possessions; crossing Hans Christian Andersen with Wilkie Collins.
Edited by Jon Bywater, Julien Laugier and Louise Menzies
Designed by Louise Menzies and Julien Laugier